Artikel: Buffet Crampon - Evette Schaeffer - Master Model
Brand:
Buffet Crampon - Paris
Model:
Evette Schaeffer - Master Model
Finish:
Grenadille body with nickel plated keywork (100%)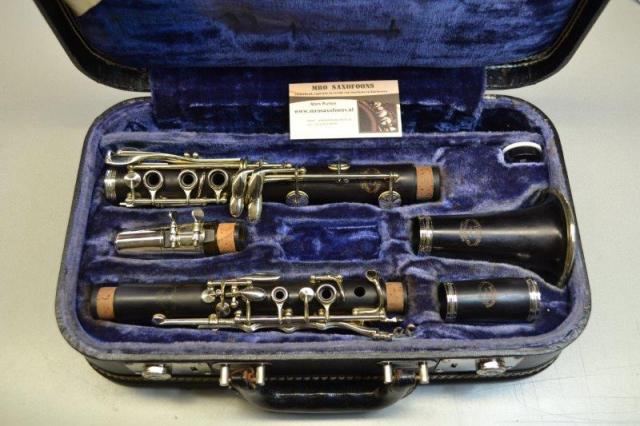 Brand : Buffet Crampon
Type : Evette Schaeffer – Master Model
Serial : K9503
Year : 1960
MRO ID : CLT10
 
General description : Almost mint condition and absolute top-class Buffet Crampon clarinet. Perfect alternative for a R13 model!
Condition : In almost mint condition! Wooden parts are free of cracks and chips, and of very high quality. Nickel silver keywork is perfect, with no wear. See the many detailed pictures. Overhaul in May 2017 by master woodwind artesian (With the lightest of touch and a whisper of breath the sound won't break from the lowest note up. The wood tone-holes and bore have been cleaned of saliva salt minerals, reconditioned, polished, and oiled with natural organic F.Loree Paris oil for grenadilla wood. Intonation and voicing is correct and even throughout. The aged stable wood has never been cracked. All rods and pivots have been micro polished, and oiled with the finest clock oil. Key action is tight, mechanically quiet, and smooth. All body joints, rings, posts, and keys and levers are original and in great working condition). It had an additional maintenance check end 2019.
Warranty : 1 year full warranty.
Level : intermediate / professional.
Body : Grenadille wooden parts.
Condition : excellent.
Visual : No issues.
Repairs : none.
Engraving : Buffet Crampon Master Model engraving on all parts.
Keywork : nickel silver plated.
Condition : excellent.
Pads : very good condition.
Barrel : Length 65.0 mm.
Condition : excellent.
Features : no extra features. Bore : 14.65 / 14.60 mm.
Case : original vintage Buffet Crampon case.
Case condition : very good., no damage.
History : From second owner, a Dutch player who played it for 2 years and switched over to a Full Boehm R13.
Remarks : Wikipedia info about the Evette Schaeffer Master Model (ES-MM): The Evette Schaeffer is the precursor model of the Buffet Crampon E13 (until about 1980). The Master Model clarinet is the top model of the series, and should be classified between the E13 and R13 of Buffet Crampon according the experts: a type of E13 + ..... Despite the various ghost stories, these are definitely not deprecated R13 clarinets! But quality of woodwork and keywork are identical to the R13. The Master Model is engraved in each section of the instrument.
What matters of course is the tone, playability and the quality of the instrument. This is undoubtedly top-class: it's a  professional clarinet. The wood is of excellent quality, the rods and keywork fit perfectly and there is no slack in any adjustment. Sound is warm and full, with a very good tuning over the entire range. Instrument comes from first owner. A modern R13 absolutely can not compete with these ES-MM.