Artikel: Conn 26M Connqueror
Manufactoring date:
mid 1935
Finish:
Lacquered body and keywork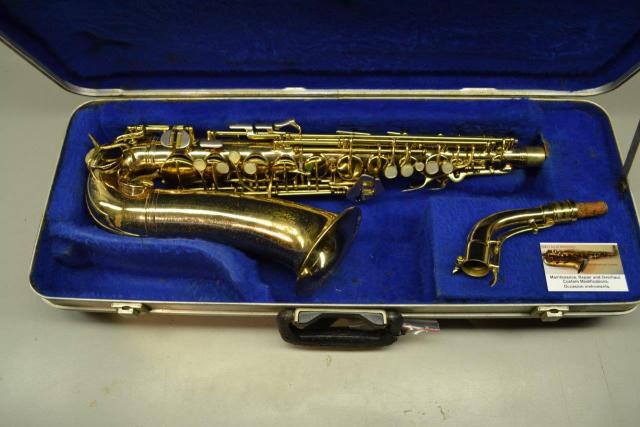 Brand : Conn Ltd - USA
Type : 26M Connqueror
Serial : M267884
Year : 1935
MRO ID : AS40
 
General description : This is the famous Conn 26M 'Connqueror' alto sax. In remarkably good condition. Definitely an older relacquer, but well done.  These are very free blowing horns! Lots of power, fast ergonomic keywork and an amazing sound. This one can be dated to mid-1935 and is one of the first 26M model horns
Condition: Overhauled by previous owner in 2014. This horn is in very good condition, without damage. No dents, no repairs, only a couple of minor dings and light lacquer wear. The neck fits perfectly. Microtuner is fully functional and has no leaks. A dent was removed on the upper side: well done. No neck pulldown. The mouthpiece end has minor damage, no issue at all. Microtuner had the following text: Rev.D July 8-1919  No 1308903. Only minor laquer wear on body. The silver plated keywork touches are in good condition. The bell engraving is hardly visible due to the relacquer, but you can still see the Naked Lady.....  The serial number area engraving is just fine. This sax was overhauled in 2014 by its previous owner, using Maestro resonators. We did a full maintenance check in Jan. 2020: complete disassembly, cleaning and polishing body and keywork, renewed cork and added teflon where needed, new oil, assembly, test play and adjustment. The pads were treated with pad oil , the 2 palm key pads were renewed
Warranty : as-is condition : no warranty.
Level : professional.
Body :  Lacquer : relacquer.
Condition : very good, with normal wear and tear.
Visual : minor dings / scratches / lacquer wear.
Repairs : none.
Engraving :  thin Ladyface engraving.
Keywork : Lacquered / silver plated.
Condition : very good, with normal wear and tear.
Pads : very good.
Neck : Lacquered.
Condition : good. Mouthpiece end has minor damage. Dent removed on upper side.
Features : Rolled tone holes / Double socket neck / microtuner.
Case : replacement case (Martin?)
Case condition : good, with normal wear and tear.
History : From first owner, a professional player at the Warner Bross studio´s.
Remarks : About 2200 of these horns were made and they are very sought after!  Also known as the 6M on steroids....