Artikel: Conn Transitional 6M
Manufactoring date:
mid 1933
Finish:
Lacquered body and keywork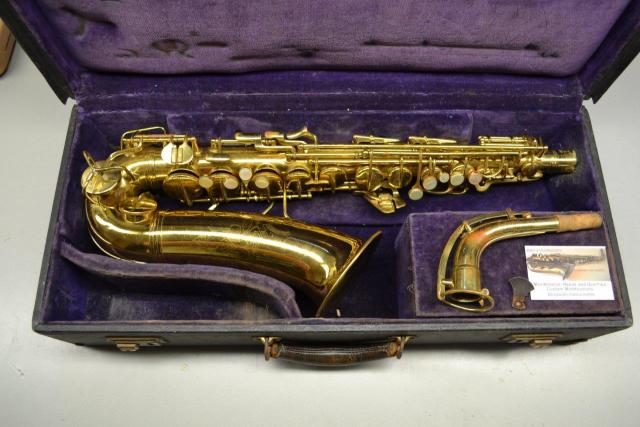 Brand : Conn Ltd - USA
Type : Transitional 6M
Serial : M258475A
Year : 1933
MRO ID : AS28
 
General description : Conn Transitional 6M type, with low B and Bb key on the left hand side of the bell. This one doesn´t have the underslung octave mechanism, but it features the so-called New York neck. More or less the same as the old ChuBerry type, but with the double socket and without microtuner. These necks are not interchangeable with a standard Transitional 6M underslung neck: the octave mechanism is different.
Further details: Naked Lady engraving, rolled tone holes, double socket neck without microtuner. Apart from that almost entirely identical to the 6M Ladyface. The sax is a true professional handmade vintage sax! Very flexible and all-round horn! Feels comfortable during playing and it runs very smoothly, in combination with excellent tuning. The sax was relacquered a long time ago, but done professionally. The engraving is still very well visible, as well as the identification text.
Condition : This horn was completely overhauled by MROsaxofoons in June 2020, using Prestini pads with plastic resonators. The overhaul included ultrasonic cleaning, tone hole levelling, rods polished, new pads, cork and felt, complete adjustment of keywork and springs, improvement of key action. The sax is in very good condition with no dents or damage. All lock screws provided. No rust marks at low E flat key. One small solder repair on the RH B flat key. 
Warranty : 1 year full warranty.
Level : professional.
Body :  Lacquer : old relacquer.
Condition : very good, only minimal wear and tear.
Visual : no issues.
Repairs : none.
Engraving : well visible Ladyface engraving.
Keywork : Lacquered.
Condition : almost mint, with minimal wear and tear.
Repairs : 1 solder epair on RH B flat key, hardly visible.
Pads : new Prestini pads with plastic resonators.
Neck : Lacquered. New York style (no underslung).
Condition : very good. One small dent on upper side.
Features : Rolled tone holes, Double socket neck, New York style neck.
Case : replacement vintage case.
Case condition : good / normal wear and tear.
History : Imported from the UK in 2018. The previous owner was a woodwind repair technician in the Birmingham area.
Remarks : I'm not sure about the lacquer, I think it originally was the bare brass version and was lacquered afterwards. It surely was done professionally and a long time ago, the original owner had no info on this.