Artikel: Pan American 68M
Model:
Pan American - Elkhart Ind USA
Finish:
Silver plated body and keywork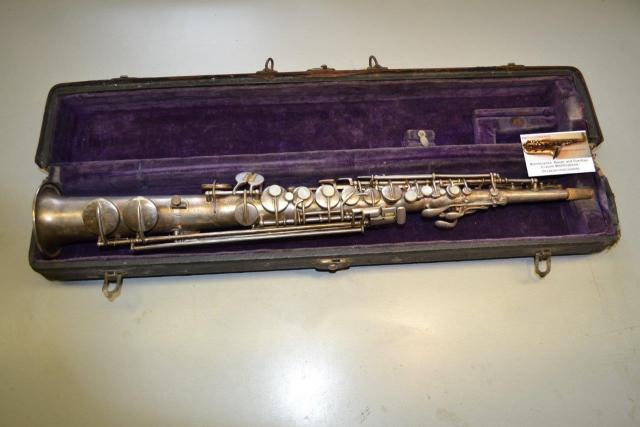 Brand : Conn Ltd - USA
Type : Pan American 68M
Serial : P29681
Year : 1926
MRO ID : SS01
 
General description : Made by Conn Ltd as their second line of instruments: this Pan American 68M is almost identical to the New Wonder serie 2 (ChuBerry) soprano saxophone, except for the rolled tone holes and the nailfile pinky key. The perfect alternative for the more expensive New Wonder and ChuBerry soprano´s. Silver plated body and keywork, with gold wash bell (finish 2).
Condition : Overhauled by MROsaxofoons in May 2020.
Warranty : 1 year full warranty.
Level : intermediate / professional.
Body :  Matt silver plated.
Condition : very good , only very light wear and tear. 
Visual : no abnormalities.
Repairs : one resoldered post (low C).
Engraving : sharp engraving.
Keywork : Silver plated
Condition : very good, only light wear and tear.
Pads : New Prestini brown leather pads with domed metal resonators.
Neck : not applicable.
Condition : very good.
Features : no extra features.
Case : original case, in fair condition and fully functional.
Case condition : good, with light wear and tear.
History : From retired professional player in Louisville , KY (USA).
Remarks : This sax will sound at it´s best with a vintage large-chamber mouthpiece. We have a couple of these on stock : ask for more info.