Artikel: Conn 6M Ladyface
Manufactoring date:
end 1947
Finish:
Laquered body and keywork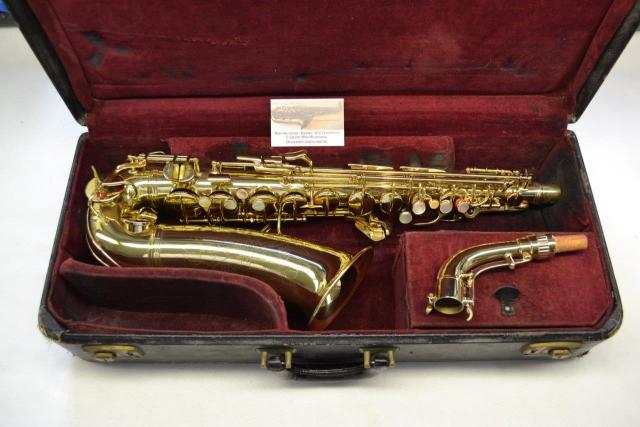 Brand : Conn Ltd - USA
Type : 6M Ladyface
Serial : 327125
Year : end 1947

MRO ID : AS11
General description : If you´re looking for a 6M Ladyface in new condition : this is your chance! It had a complete professional overhaul and was relacquered in 2018. Very nicely done! It's a terrific horn to play, very free blowing! Lots of power and a full sound. A true professional sax,in new condition! This is one of the first 6M horns without rolled tone holes (serial 325406 stil has rolled tone holes).
Condition : Overhauled by previous owner in 2018, including new lacquer.
Warranty : as-is condition : no warranty.
Level : professional.
Body :  Lacquer : professional relacquer.
Condition : mint.
Visual : no issues.
Repairs : none.
Engraving : well visible Ladyface engraving.
Keywork : Lacquered.
Condition : mint.
Pads : new.
Neck : Lacquered.
Condition : mint.
Features : Straight tone holes / Double socket neck / microtuner.
Case : original case.
Case condition : very good.
History : Imported from the US in 2019. No further details available.
Remarks : I´m not a huge fan of relaquering a saxophone, but the modern methods are way better that they used to be. If done correctly (as with this saxophone) it has no influence on the sound at all. This is one of the first 6M saxes without the rolled tone holes. It is one of the last saxes build in 1947 according to the Conn serial number list.