Artikel: Conn 6M Ladyface
Finish:
Lacquered body and keywork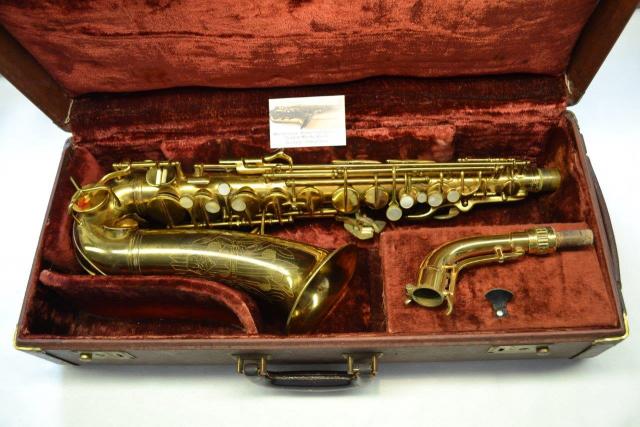 Brand : Conn Ltd - USA
Type : 6M Ladyface
Serial : 336330
Year : 1949

MRO ID : AS10
General description : In remarkabily good condition, with original laquer. This is one without the rolled tone holes. It was build end of 1949 according to the Conn serial number list. It's a terrific horn to play, very free blowing! Lots of power and a full sound.
Condition : Overhauled by previous owner, in good playing condition. Very nice condition, definately not an abused example. It is in good playing condition, with newer Conn Resopads installed on most places.. The instrument seals nicely with it's current pads. The microtuner turns freely and the neck has no pull-down. The laquer is in very good condition, only light wear at the usual spots due to normal use. Very nice Ladyface engraving! This horn has no real damage or repairs, only a couple of minor dings.
Warranty : as-is condition : no warranty.
Level : professional.
Body :  Lacquer : original lacquer.
Condition : very good, with normal wear and tear.
Visual : a couple of small dings, scratches  and usual lacquer wear.
Repairs : none.
Engraving : well visible Ladyface engraving.
Keywork : Lacquered, with usual lacquer wear.
Condition : very good, with normal wear and tear.
Pads : very good to good Conn Reso-pads.
Neck : Lacquered, with microtuner.
Condition : very good, with normal wear and tear. Microtuner turns freely, no pulldown.
Features : Straight tone holes / Double socket neck / microtuner.
Case : original case.
Case condition : usable / damage outside / damage inside. Needs some work.
History : no details available.