Artikel: Buffet Crampon R13 - Continentale
Model:
R13 - Continentale
Finish:
Grenadille body with nickel silver plated keywork (98%)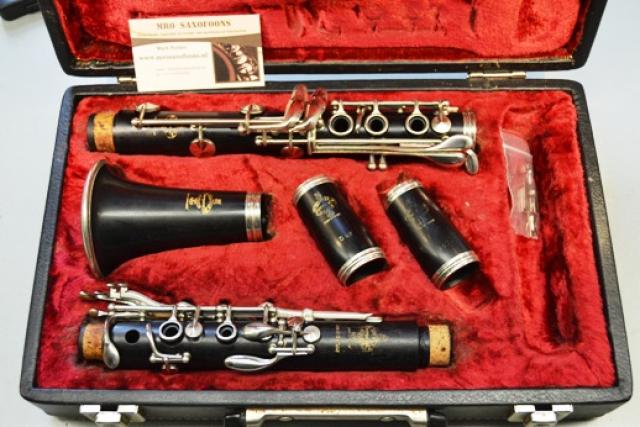 Brand : Buffet Crampon
Type : R13 -Continentale
Serial : F79068
Year : 1964

MRO ID: CLT04
General description : The Continentale version was in production rather shortly. The Continentale design features higher placement of the speaker tube, and significantly less undercutting of the upper joint, this results in a darker, more focussed, tone than the R13, with a typical Buffet "sweetness". Buffet Crampon advertised the Continentale as ideal for Chamber Music.
Condition : Overhauled by MRO in 2017, using white leather Roopads.
Warranty : 1 year full warranty.
Level : professional.
Body :  Grenadille wood of finest quality.
Condition : very good, with light wear and tear.
Visual : no issues. No cracks.
Repairs : This particular clarinet had a modification on the upper joint in the past. The upper joint was shortened by about 3.5 mm, causing tuning issues with the standard 65mm barrel. I have no idea why this modification was done...... To compensate this, a 68mm and a 67mm R13 barrel will be delivered with this clarinet (see pictures). Both barrels are vintage R13 barrels and have the same specifications as the original barrel. The instrument tunes exactly at A= 440 Hz with the 68 mm barrel.
Engraving :  logo only.
Keywork : nickel silver plated.
Condition : very good, with normal wear and tear.
Pads : new white leather Roopads.
Barrel : Grenadille wood R13 barrel.
Condition : very good.
Features : no extra features.
Case : original.
Case condition : very good.
History : Bought in 2017 from a retired professional player in the Utrecht area.
Remarks :  Barrel :  67.0 and 68.0 mm      Bore : 14.6 - 14.4 mm   Tuning A = 440/441 Hz