Artikel: Conn 6M Ladyface
Finish:
Laquered body with nickel plated keywork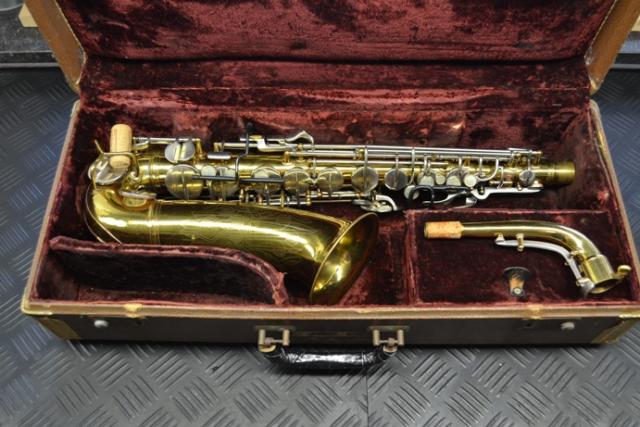 Brand : Conn Ltd - USA
Type :   6M Ladyface
Serial :  535006
Year :    1955

MRO ID: AS01
General description : This 6M alto is in very good condition, without any serious repairs or dents. Original lacquer, with the famous Ladyface engraving. It´s one of the first 6M horns with the nickel plated keywork. These are the last professional-level horns produced by Conn. The double socket neck has no microtuner. Perfect horn for solo work, jazz and popmusic. Ergonomic and fast keywork, in combination with excellent tuning and the typical Conn sound. 
Condition : Completely overhauled by MROsaxophones in January 2017.
Warranty : 1 year full warranty.
Level : Professional.
Body :  Lacquer : original lacquer, in very good condition.
Condition : very good, with light wear and tear.
Visual : a couple of minor dings / scratches.
Repairs : none.
Engraving : sharp Ladyface engraving.
Keywork :  nickel plated.
Condition : very good / light wear and tear.
Pads : new.
Neck : Lacquered.
Condition : Very good / light wear and tear.
Features :  Double socket neck / no microtuner.
Case : Original.
Case condition : good / normal wear and tear.
History : No history available.
Remarks : Very good playing sax!